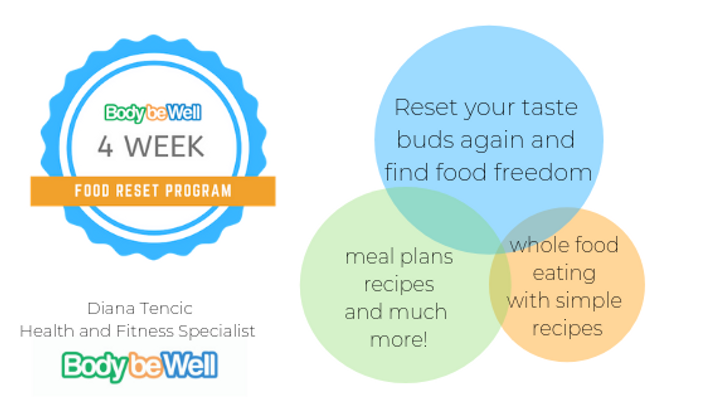 Food Reset Program
Is it time to reset your nutrition? Or are you confused about what to eat in general? Then this program is for you!

Would you like to find food freedom and ditch the processed stuff?
To find your you, your fit you?
Discover ways to listen to your body with an open mind?
To make peace with your plate and join a program of self exploration regarding your food habits?
I like to think of this program as a let's see approach.
Together,
Let's see what happens when we add more vegetables and fruit into our day.
Let's see how we feel when we truly set our wellness vision.
Let's take back control and trust our body when she talks to us.


Join the family and create a better you with us…
Sometimes we need to be grabbed by the hand and shown the way. It happens to the best of us. Heck it happened to me.
Hi my name is Diana Tencic, and have been in the business of fitness for over 18 years.
What an honour it is to share my health tips and tricks with you so that you can take it and flourish, and find your food freedom.

Now I am putting my hand up here because sometimes I too fall off the wagon.
This happened to me 2 years ago. I became unwell and with all the knowledge I had well, my body went through an ordeal too many women are experiencing. As a result I had to take medication that placed me into early menopause. The list of known side effects and undisclosed where depression, weight gain, loss of libido and night sweats. For a while I thought "this is it". I was at my lowest, both physically and mentally.
I fought my inner voice, dug deep and took small steps to create change. Along with a torn wrist my body was struggling. With the help of a mindset coach, and my own studies I fought back and dug myself out.
What was the major shift?
Movement and nutrition.
You see when you take medication you are at the mercy of said medication. It takes support and I believe healthy movement and eating habits truly aid in your recovery.

I set myself small goals and I kept going and going and going. Through my dark days I did it. I admit it and I am here to tell you that it's ok as long as we are brave enough to take accountability and then change, then we can honour our bodies and give her the nutrients she deserves.
Why I love fruit and veggies?
They taste darn good!
They keep us regular.
Vegetables are full of vitamins, minerals, fibre and antioxidants which help us to live longer and healthier lives.
In fact, adding just one serve of vegetables a day (half a cup of chopped or cooked vegetables, or a cup of leafy salad) can reduce a person's risk of illness by 5% and reduces their chances of getting cardiovascular disease by 4%. Plus, the risk of stroke decreases by 11% for every extra 200g of vegetables consumed.


I also love the fact that in this program we are eating fruit!
Yes Fruit!
Did you know that even though fruit contains sugar, it's also high in water and fiber, so it's much less concentrated than sugar in soda and processed foods.
Another positive statisti
FIBRE IS KING!
Gut flora health is such a powerful position to be in.
Fibre provides many health benefits. These include helping you feel more satisfied with fewer calories, as well as improving digestive function and metabolic health.
Foods such as avocados, flaxseeds and blackberries are particularly high in healthy fibre along with beans and legumes.
Getting fibre as it naturally occurs in real food is much better than taking a fibre
supplement or eating processed food with added fibre.
We take the veggies and make her taste amazing with our tricks and tips!


Join me with nutritionist approved recipes for the kick start you need right now!


Consider this,

Official figures show that a staggering 96% of all Australians don't eat enough vegetables each day .
That the majority of Australian adults (63%) are overweight or obese
Australian adults now spend more time sitting or lying down (not just when sleeping).
Australians spent an average of 34 hours per week sitting at leisure!
Let's change the stats and start thinking about how we can nourish our bodies again!
Medications can cause side effects. Some drugs stimulate your appetite, and as a result, you eat more. Others may affect how your body absorbs and stores glucose, which can lead to fat deposits in the midsection of your body. Some cause calories to be burned slower by changing your body's metabolism. Others cause shortness of breath and fatigue, making it difficult for people to exercise. Other drugs can cause you to retain water, which adds weight but not necessarily fat.
How much weight is gained varies from person-to-person and from drug-to-drug. Some people may gain a few kilos throughout the course of a year, while other people can gain 10, 20 or more kilos in just a few months. Because many of these medications are taken for chronic conditions, you may use them for several years with their use contributing to significant weight gain throughout time.
Lets change the stats and lets empower ourselves with the tools to shift the mindset and heal our body.
Why an online program?
Having helped hundreds of women during my workshops, I had countless requests for support globally.

I wanted to create a program that could reach more people and empower them to take a leap of faith and get started, point them, you in the right direction.What started as a 4 week program from a community hall has now grown into an online community.


This program may assist with the following issues:
bloating
weight gain
low energy
low libido
afternoon fatigue
sleep
constipation
moodiness
digestive issues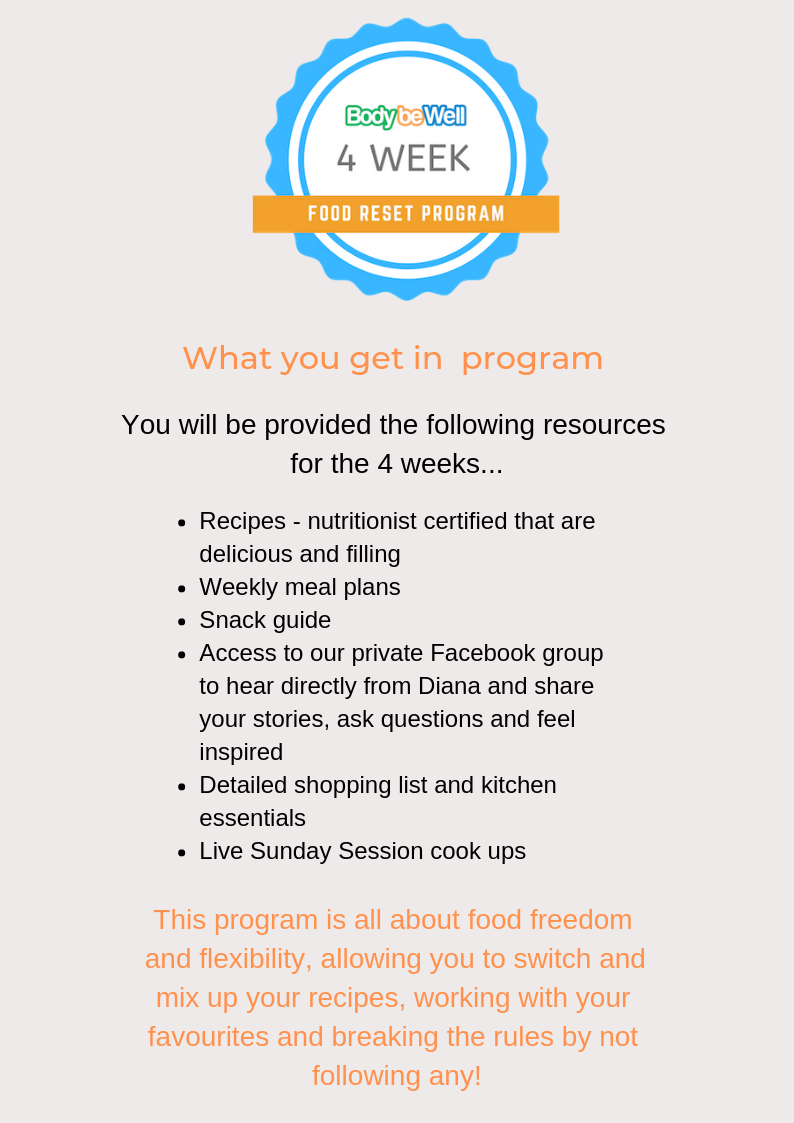 I cannot wait to share my program with you.
See you in Feb.
Big love
Diana x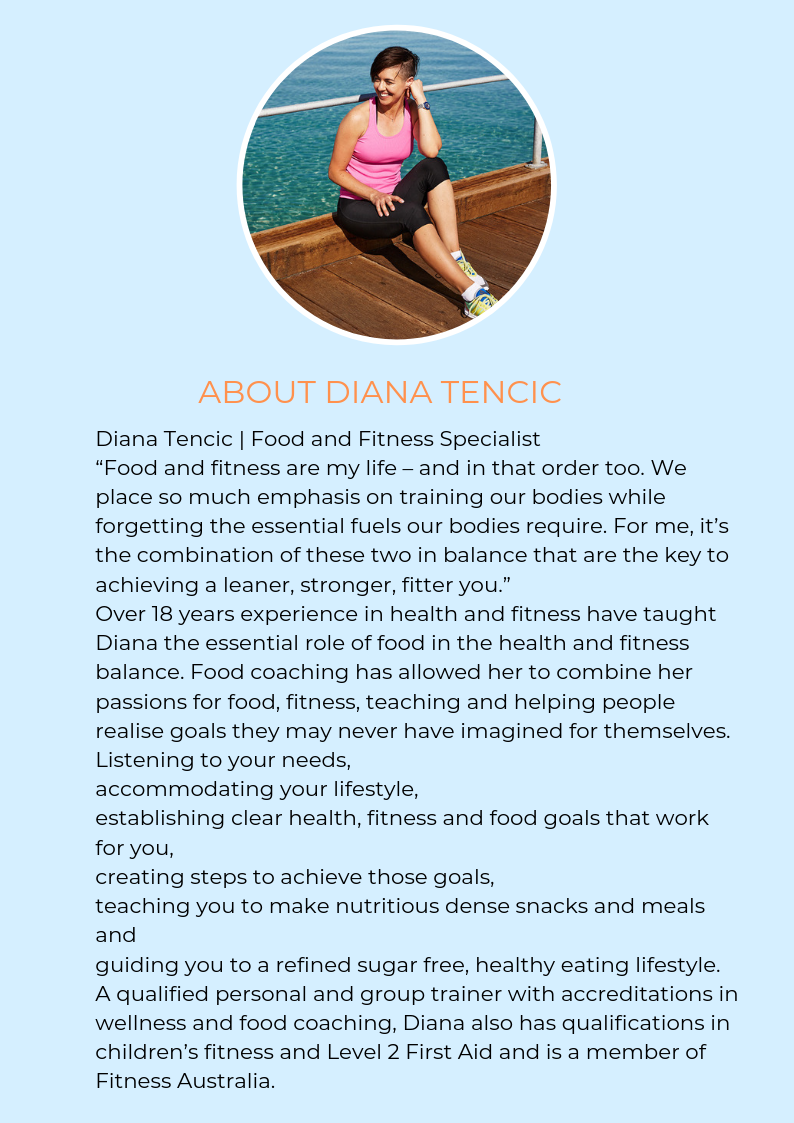 Frequently Asked Questions
When does the course start and finish?
The course starts March 18 and ends 6 weeks after commencement date.
How long do I have access to the course?
After enrolling, you have 6 weeks access to this course. Across any and all devices you own.
What if I am unhappy with the course?
We would never want you to be unhappy! If you are unsatisfied with your purchase, contact us in the first 7 days and we will give you a full refund.